When I first decided to dip my toes into the wedding videography pool, I had no idea what I was getting myself into. But am I happy I dove in! From shooting dance parties in the middle of a historic ballroom to capturing moments on resort beaches and filming a first dance with a drone in a remote jungle, there is never a dull moment! Here are some of the most valuable lessons I've learned in my first year of business making wedding videos.
1. Making wedding videos that are good is not enough to stand out
Let me tell you a funny but embarrassing story. When we first moved to Washington, I was excited and felt I had so much to offer. So naturally, I sent an email to the top wedding planners in Seattle to pitch my services. I was thinking "They're going to be SO blown away. Their couples are going to give them SO many pats on their backs! I'm going to overdeliver on value and we'll be best friends forever." No joke. I believed that they'd be so happy to work with me that I was compelled to reach out.
Even though I probably seemed overeager #thirsty, most of the planners actually responded. They thanked me for reaching out and complimented my work. Some even said they'd keep me in mind for future bookings and invited me to upcoming wedding industry meetups.
I was bummed that none of them WERE keen to hire me on the spot. But in hindsight, I now understand why.
Sure, making quality wedding videos is important – no one wants to watch a grainy, low resolution, shaky video. But there are so many other important factors planners and their couples consider when hiring a videographer.
First, they're looking for proof of consistency. I sent them a video showcasing the style and quality of my work, but it was ONE video. Even if they thought it was creative, how could they be confident in my ability to do it again?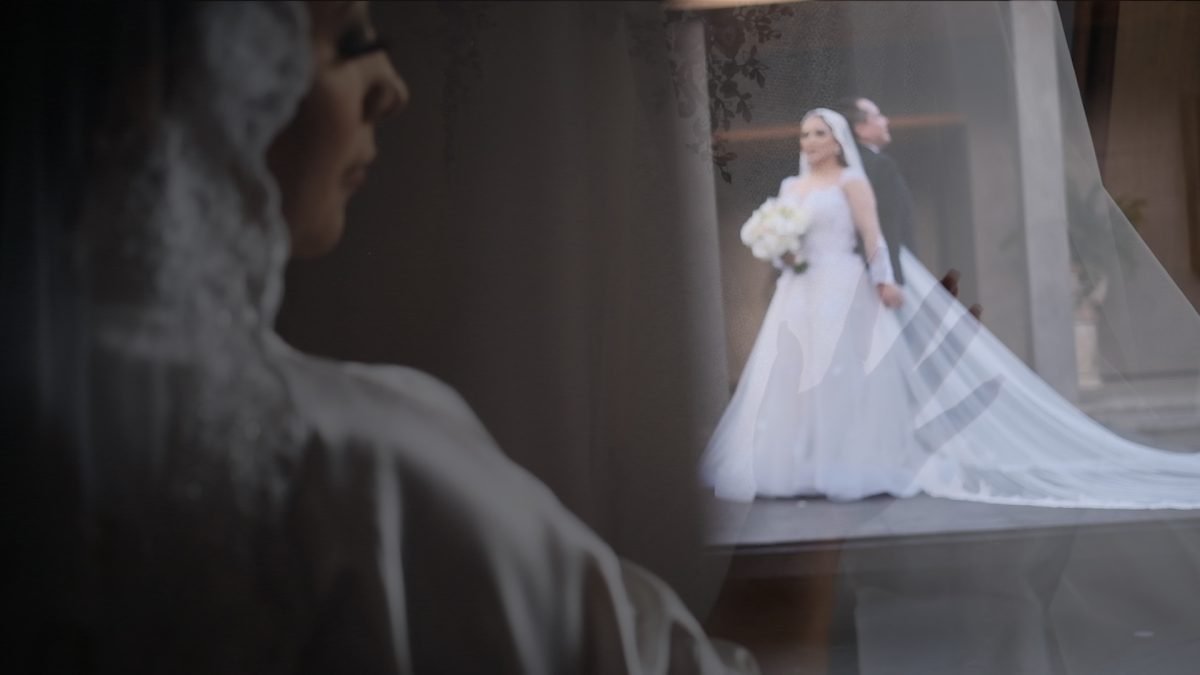 Second, I had no reviews except for the one written by my one and only couple. And now I also know that it's not enough for the couples to love me. I also need to have a good reputation for how well I work with other vendors. These planners are looking for professionals – experienced, reliable craftsmen that also play nice with one another. At that point, the best title I could give myself was "enthusiastic newbie." Being new and full of passion is not a bad thing. But when they already have a circle of vendors they've been working with for years, I get why they were hesitant to take a risk on me.
Technology is opening the doors for so many of us to turn our passions into businesses. Great cameras are becoming less expensive and anyone can create a beautiful website with ease. And with the amount of educational content out there (much of which is free), it's not difficult for someone willing to put in the work to learn how to make high-quality wedding videos. 
I now understand that creating beautiful films is not enough. Couples and their planners hire me because they know I'll take care of them, they like my personality, and appreciate the unique strengths I bring to the table. Bottom line is that I was reminded that reputation is built through repetition. I have a long way to go but I'm happy to see that my effort starting to pay off.
2. Every wedding is different
Before I started making wedding videos, I used to think that weddings were pretty much all the same. Now I understand that while weddings may have common elements, if we pay attention, we see how each is unique. 
First, weddings can vary based on culture and tradition. For example, not every couple stomps on a glass before walking down the aisle as husband and wife like they do in a traditional Jewish ceremony. I've now had the opportunity to film weddings of people from different cultures and backgrounds and I'm looking forward to even more this year.
Some couples who come from different cultural backgrounds look for ways to combine their favorite traditions from their respective cultures to create an experience that's truly their own. Later this summer, one of my couples and their planners are thinking of ways to intertwine the groom's Persian roots with the bride's Jewish traditions. 
And on the opposite side of the spectrum, others forgo the all traditions and choose to do their own thing with an intimate elopement.
In the beginning, I used to pay little attention to the details thinking that 99% of my attention should be on the couple. But then I realized that the couple and their planner chose those details because of how well they reflected the couple's hobbies, personalities, and even defining milestones of their relationships. Perhaps the most special of all personalizations is the story of the couple which comes through in their personal vows and the toasts given by their friends and family. I now make a huge effort to listen closely to what's said throughout the day. And I combine the best parts of those narratives with details and candid moments to make wedding videos that are as unique as the couple.
3. The most important things I bring have nothing to do with cameras and gear
I shot my first big wedding running on 5 hours of sleep (I was so excited and nervous that I couldn't fall asleep!) packing nothing more than 2 decent cameras, a cheap monopod, and a mediocre zoom lens. Everything I used fit in a small backpack with room to spare for snacks. Despite being shot with a barebones kit, that wedding film is featured on my website. It's still one of my favorites and it reminds me that what makes for a good wedding video goes beyond the gear.  I've learned that the way a film turns out depends on the connection and level of trust between me and my couples, the beauty of the planner's design and execution, the quality and mindset of the other vendors like musicians, florists, and photographers.
Now I have enough kit to equip a small team of videographers! Does it help? It can. Having 3 professional cameras allows me to shoot more angles. And if one camera dies, I have back-ups. I have lenses that cover every possible scenario. I bring lights that can control the shadows. And I can even walk around with a gimbal to get buttery smooth footage.
But because of that first wedding, I'll always remember that the best thing I bring to the shoot is not what's in my bag. Rather, it's my perspective. I have an eye for composition and am growing in my mastery of angles, lighting, and sound. I bring presence and my ability to read the room. An awareness of the moments unfolding around me, curiosity about the people I'm filming, and my personality. A bride recently messaged me saying:
"I know even our pictures turned out better because of how well the three of us hit it off!" 
No amount of camera equipment will help you get a message like that.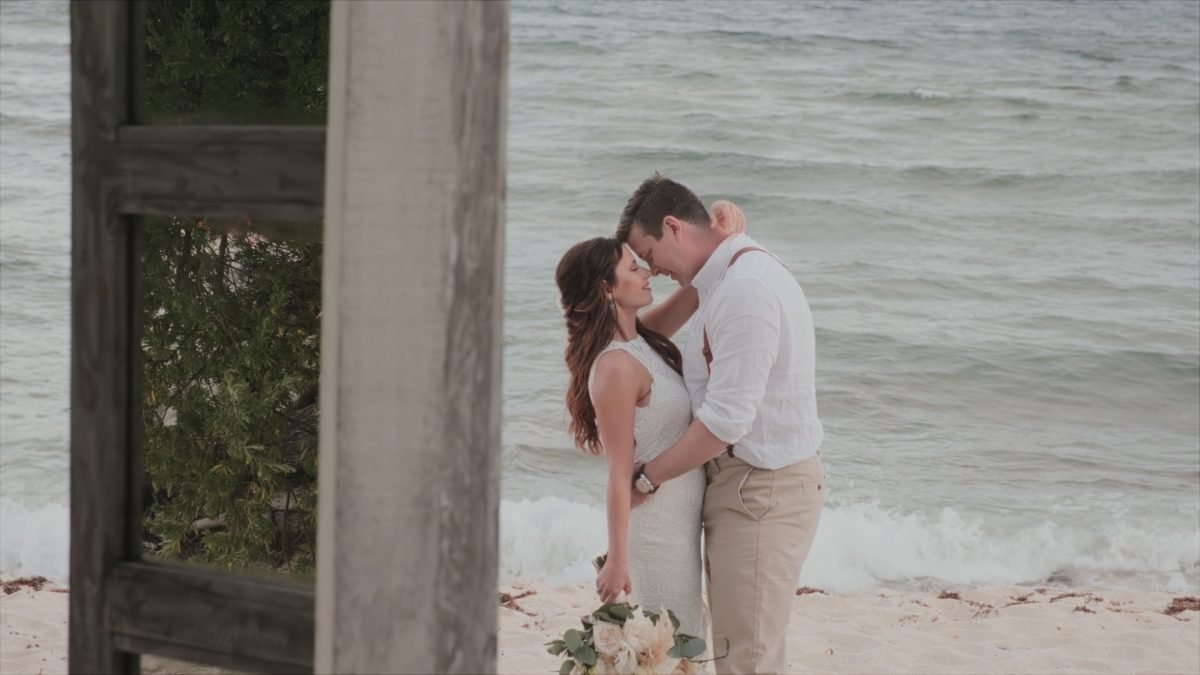 4. Change starts with a mindset shift
Mindset isn't spoken about enough. I don't know about you but I've never done anything great without first getting my mindset right. Our mindset shapes our attitude. Which in turn, influences our behaviors. And our actions then make a direct impact on whether or not we achieve what we want.
When I first started experimenting with videography, I had no idea what I was doing. All I knew was that I wanted to be like my hero Antony Bourdain. To be traveling all of the world eating good food with locals. You can see one of my very first travel videos here. 
I knew there was so much I could improve. 
So I started learning from people like the guys behind the Art of Documentary, Stillmotion/Muse, and other creators on YouTube. This mindset that my skills can be improved through hard work has been with me ever since my mom hit me on my head with my yellow school book while my cousins were tapping on the bedroom window trying to get me to play outside… whoa! Emotional damaaaage. Just kidding, love you ma!!! She's the one I thank for my relentless drive.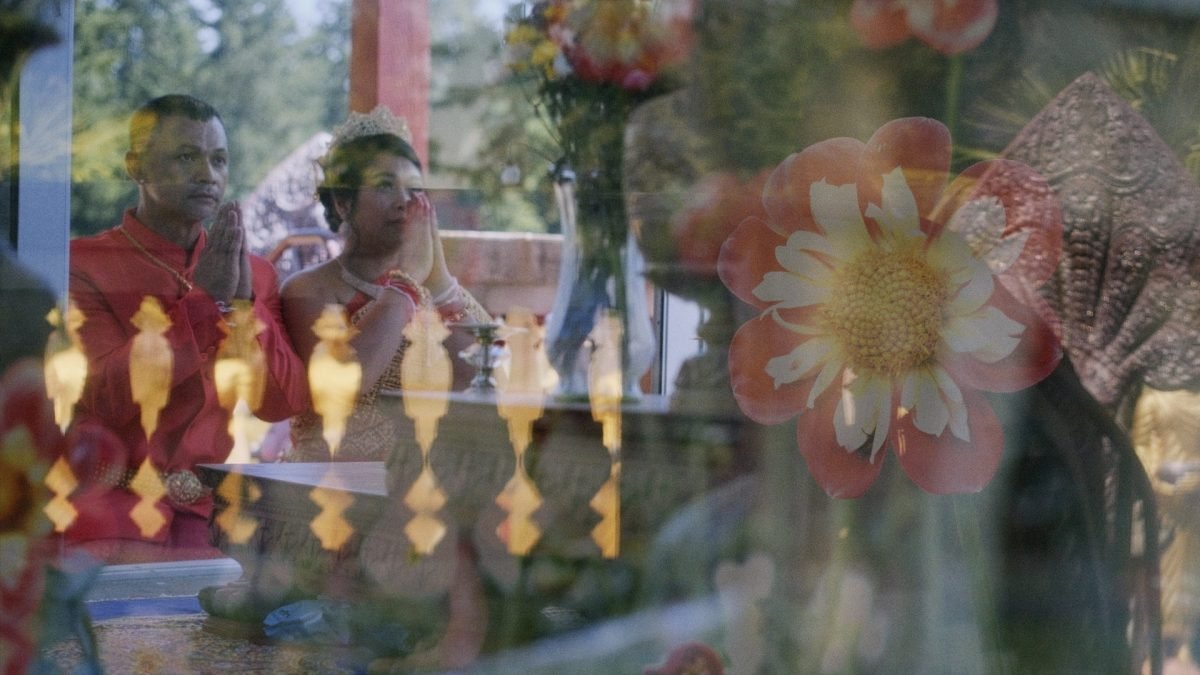 One of the important mindset shifts happened on my second wedding shoot. I'm so happy it happened early on. We were at a buddhist temple and I wanted to film the couple walking through the temple grounds. The photographer noticed that I was struggling trying to run two cameras. He offered to reframe my second camera so I could keep following the couple as they walked. I remember thinking "why would he offer to make sure my second angle was solid instead of prioritizing his own shots?" To this day, I still don't know why, maybe he already had everything he needed. But his thoughtfulness made me realize that we as vendors are not separate from each other. If we treat each other like teammates, we all have a better chance on overdelivering on the promises we made to our clients. Plus, who doesn't like working with nice people?
Ever since then, I've looked for ways make other vendors feel the way that photographer made me feel. By shifting my mindset, I've been able to do a better job in collaborations, networking, sales, marketing, and many other parts my business.
5. It's good to be friends with "competition"
When my family first arrived to Washington, I introduced myself to a few of the more established wedding videographers serving the Seattle market. Just like the top planners I mentioned above, many of them responded. And I've even been able to make wedding videos with some of the best who has been in the industry for 10 years. These relationships led to experiences that helped me improve my technical skills, build relationships with other vendors, and gave me insights about the industry as a whole. They've also referred couples to me on the times they've been booked and vice versa. So while it's true that these other companies are my competition, I'm happy to call a few of them my friends.
6. My filmmaking style will continue to evolve
My preference is to film people doing people things in a natural manner. That is, to shoot only candid moments in an unobtrusive way. That's what I did on my first wedding and I loved both the process and the end result. But honestly, I also see the beauty in posed frames. Sometimes I get an idea in my head and if I feel people are up for it, I toss out an invitation. One of the recent weddings I shot was full of interesting characters so I told the bridesmaids to hide behind the sofa and on my call, to peek their eyes out like frogs in a pond! It made for good fun and I ended up using the shot.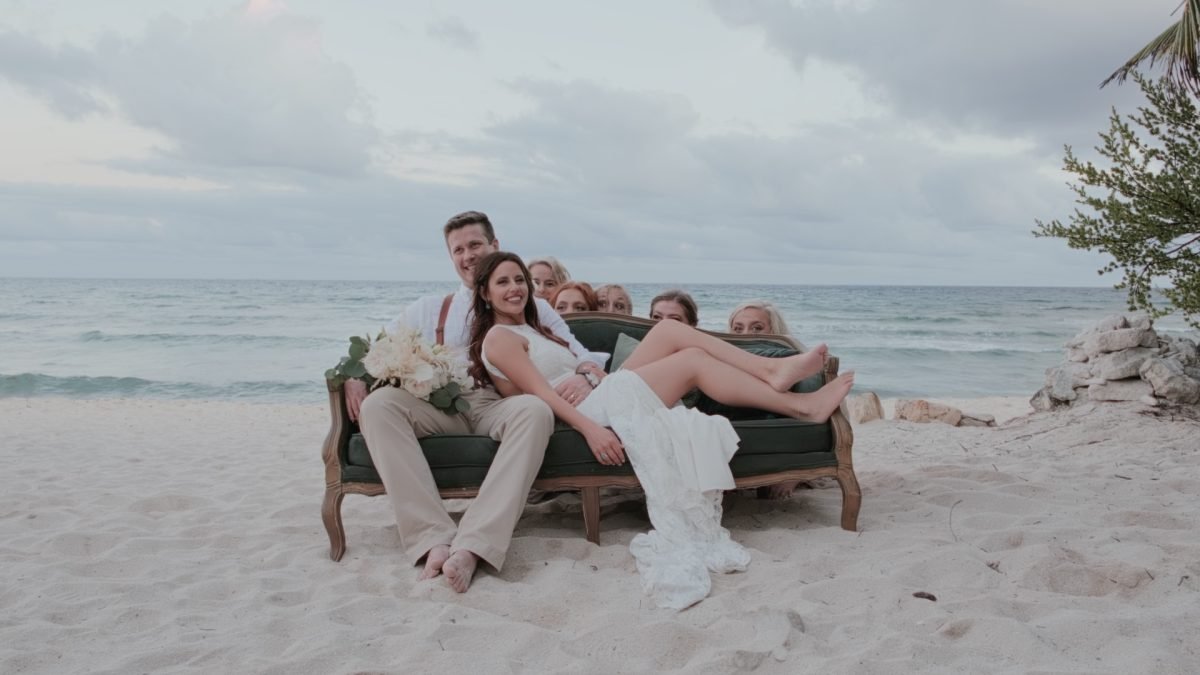 I'm attracted to the romantic idea of the pure documentary approach. To be able to say something cool like "I search for those raw moments and capture them as they naturally unfold." Yes, I do that, 90% of the time. However, I'm often inspired by movies I watch, some of which are Babylon, Call Me by Your Name, Her, In the Mood for Love, The Worst Person in the World, and the Tree of Life. None of those are cinéma vérité documentaries. So of course, a ton of planning and shot takes went into getting the framing, lighting, and composition just right. Even my favorite documentary-style shows like Anthony Bourdain's  Parts Unknown weren't filmed in a pure documentary style. 
That means that to make wedding videos like my favorite movies, I also have to do things like give subtle direction or move my subjects to the best light within the scene. So while couples usually say they want someone who just blends in and takes a fly-on-the-wall approach, I've learned that some of their favorite shots are also those that took a bit of planning and direction. They're paying professionals like us to shoot the candids. And at the same time, they want us to guide them to look their best.
7. Starting something new doesn't mean starting over from scratch
I've only been in business for a year and while it's a new industry for me, I'm not starting from scratch. Technically, it's actually only been half a year since I said was sold on going all in. Anyway, I had a decade-long career as an engineer and operations leader for the largest consumer goods company in the world. That's where I honed important skills like critical thinking, being able to adapt to ever-changing conditions, on-the-spot problem solving, thriving in chaotic situations, leadership, communication, running a large operation, solid organization, how to treat people like people no matter who they are, decision making, strategic thinking, team building, emotional intelligence, etc. etc.
I'm extremely grateful for how my past experience equipped me with a set of skills and qualities that have been immensely helpful in building my video production business and I plan to continue to leverage those skills to grow even more.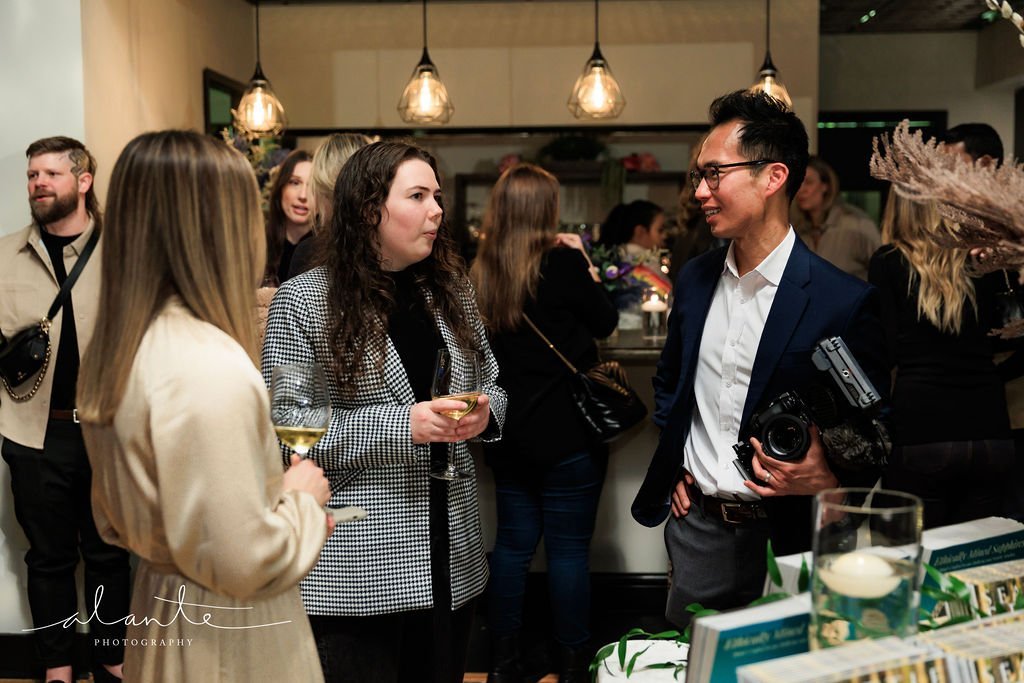 8. Creating systems is a superpower
As I noted, I come from an engineering and operations background. One of the skills I gained in that season of life was the ability to create powerful systems. Every successful business in the world has systems because they promote consistency, efficiency, and continuous improvement. Even businesses that offer creative products like mine can benefit from systems.
Take the client experience journey as an example. Between the moment a client inquires through the contact form on my website to the moment they receive their wedding films, there are over 20 steps. Each with their own sub-tasks that need to happen. One of those steps is editing their film and within that step are sub-tasks like import and back-up the media, cull the footage, find and license songs, color, sound effects, export, etc. just to name a few.
Creating systems allow me to streamline all of these tasks so my headspace, time, creativity, and energy can be spent wisely. 
Systems also allow me to learn from my mistakes instead of making the same fumbles again and again. After making a wedding video, I fill out a sheet called "learn from experience." I list things I did well and just as importantly, things I can improve for the next wedding video I make. 
It turns out, starting and running a videography business is a lot of work. And most of that work has nothing to do with shooting and editing. Systems help me wear the different hats of artist, manager, task smasher, and entrepreneur more effectively. They take a lot of work to put into place but once they're there, everything goes more smoothly. I benefit and so do my clients and collaborators.
9. I spend a fraction of my time making wedding videos, the majority of it is spent on building a sustainable business
I didn't set out to start a videography business. Falling in love with the art was completely accidental. When I eventually decided to offer my services as a business, I knew that I would need to spend time doing a lot of other things that have nothing to do with making films. 
Ready for the longest run-on sentence? 
Most of my time is currently being spent on branding (deciding what my business is all about and who I'm really trying to serve), content creation (if you're good at this I could use some help!), marketing (promoting my services – need help here too!), sales, operations (behind-the-scenes tasks like finance, schedules, etc.), customer service, networking, education, and so much more. 
By dedicating resources to every single one of these areas, not only have I been able to make better wedding videos, I've also grown my business. For now, I'm the "head" of all parts of my business but as it continues to grow, I know I'll be able to use the systems I'm building to hire and train team members to help me serve my clients even better.
10. It feels good to build something that's my own
In my previous career, I felt I had most of those things people look for like autonomy, flexibility, opportunities to grow, and fair compensation tied to my performance. But building my own business also feels good. I think it's because I'm pursuing something I'm extremely passionate about. I feel I've already grown and accomplished so much and I'm just getting started!
Top 5 Goals for Year #2
So far, I have 14 weddings in the books for 2023 and I want to shoot 25-30. I also have a handful of other projects like styled shoots, live event sponsorships, and collaborations. I get better after every project. Not just on the technical side of things like understanding lighting, posing, composition, etc. Just as importantly, I become a better collaborator and contributor to other people in my industry.
Increase monthly qualified leads to 10. Every couple who has had a consultation call with me decides to book so I know I need to do something that allows me to have more of those conversations. I'm currently working on my website SEO and soon will shift my focus to social media marketing.
Give enough value to increase my starting price from $3000 to $5000. I've learned that for the clients I want to serve, it's never about the price. Even clients who have originally said I was outside of their budget came back to book me for more than my starting price. When people buy something like wedding videography services, it's not a need. Rather, it's a luxury. And my job is to make sure the value they're receiving is always more than what they're paying.
Get to know 10 new vendors in each category of the wedding industry (planners, photographers, florists, etc.) and create strategic partnerships with those who have similar values and ideal clients. I've already started to get involved with my local chamber of commerce and I'd also like to join groups that are specific to the wedding industry like WIPA.
Continue sharing what I learn. A lot of times, I wish I knew someone who was just one or two steps ahead of me. Someone who could say "oh yeah, I was just struggling with that a little while ago but here's what I did. I don't know if it will work the same for you but you're welcome to give it a try." Maybe I could be that person for someone who's just one or two steps behind me.
My favorite educational resources related to making wedding videos
I am always learning and taking action to get better. I'm constantly inspired by other videographers around the world who are creating such good work. It encourages me because I know that if I put in massive amounts of effort and learn from the steps they've taken, I can get to where they are.  Here are just a few of my favorite educational resources.
Other videographers who make wedding videos that inspire me: Blnk Films, The Quail and the Dove, Riccardo Fasoli, Philip White, Fiore Films.
Podcasts: Level Up, How to Film Weddings, Make Your break, Make Better Wedding Films.
Books (authors): Donald Miller, Joe Polish, Sidney Lumet, Marty Neumeier.

YouTube: The Futur, The Art of Documentary, Muse Storytelling, Lucy Forsyth, Alex Hormozi, Sam Docker.

Other: D'arcy Benincosa, KT Merry, Jai Long, Anthony Bourdain.
I'm sure I've forgotten a few but those are resources I go back to time and time again. 
I hope that what I've written here can be helpful to someone who is just starting out. If nothing else, I'm excited to be able to look back on this post after another year of making wedding videos and reflect on how I've grown and changed with experience.